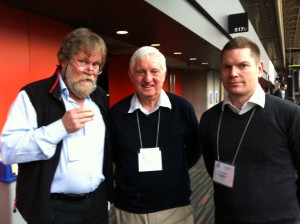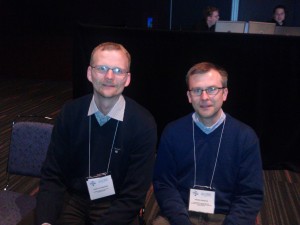 During week 27 (23 – 27 of April), the Arctic SDI team attended the International Polar Year conference in Montreal, Canada, a conference called "From knowledge to action". And as it says on the website for the conference "Occurring at a pivotal time for the environment of our planet, the International Polar Year (IPY) 2012 Conference draws international attention to the Polar Regions, global change, and related environmental, social and economic issues. From Knowledge to Action will bring together over 2,000 Arctic and Antarctic researchers, policy- and decision-makers, and a broad range of interested parties from academia, industry, non-government, education and circumpolar communities including indigenous peoples. The IPY 2012 Conference will contribute to the translation of new polar scientific findings into an evidence-based agenda for action that will influence global decisions, policies and outcomes over the coming years."
We experienced a conference with over 3000 attendees, with many parallel sessions covering lots of interesting and important presentations. We did also give a presentation of our project, being an important contribution to science in the Arctic. There was a big interest for the Arctic SDI, and we had several interesting meetings with potential user groups and contributors to the Arctic SDI.
Our Arctic SDI team this time consisted of Owe Palmer (PMG) and Fredrik Persäter (TWG-Chair) from Sweden, Martin Skedsmo (PMG) and Trond Johannessen (TWG) from Norway, Inge Thaulow from Greenland, and our Chairman of the Advisory Group, Fraser Taylor, together with Robert Corell, also the Advisory Group.